Choose the perfect rental villa in St‑Barths among more than 400 properties
Expertise and authenticity for your stay in St‑Barths
A local and dedicated team
Let's talk about your travel plans, we're at your service to organize everything. Our on-site team is available anytime during your stay.
St‑Barths' finest villas collection
Luxury villa, authentic creole house, apartment: we hold the largest portfolio of vacation rentals in Saint‑Barths.
Best price guarantee, without Admin.fee
Feel serene: we propose you the best rates with unparalleled services included.
Upscale services
Enjoy our tailored-made services: dedicated concierge, car rental, massage sessions, personal trainers, private chefs… just ask.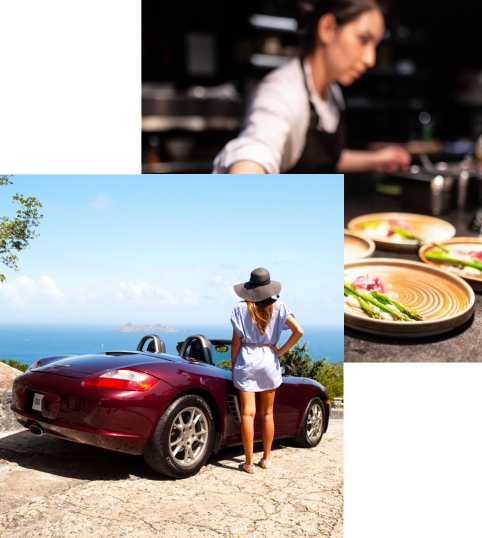 DISCOVER OUR SERVICES
Conciergerie
Tailored-made vacation in St-Barths
Our dedicated concierge service can help you customize your next stay in St‑Barths to ensure it's extra special. Whatever you need, you can reach our concierge any time.
DISCOVER OUR SERVICES
Experiences
Enjoy unparalleled experiences
What would your daydream vacation in St‑Barths be like ?
Whether you travel with family or with friends, or looking for a romantic getaway with your significant other, we do have the perfect home for an unforgettable stay in St‑Barths.
Travel diary
A dream stay in St-Barths
Imagine your luxury stay in St-Barths: discover our latest news, tips and customized advices for an unforgettable vacation in the Caribbean.


Enjoy a dream Valentine's Day in St-Barths
Valentine's Day in St-Barths is the loveliest surprise you could ever imagine for your one and only! Come and enjoy a truly unique vacation.
See more

Enjoy Christmas and New Year's Eve in St-Barths !
St-Barths, pearl of the Caribbean, saves bright surprises and spectacular sceneries for its visitors in a stunningly beautiful natural environment, for an unforgettable festive period.
See more